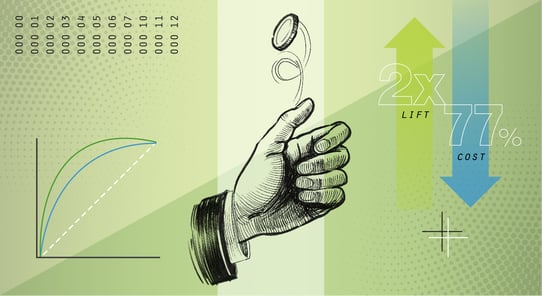 AI-powered analytics "bend the curve" to reveal the creditworthy customers you've been missing.
Lenders still rely on broad screening techniques to filter risky prospects. But what if you knew that indicators like First Payment Default (FPD) turn out to be no more reliable than a coin toss in predicting profitable accounts? What if you knew that changing demographics have left millions of worthy customers virtually invisible to traditional screening methods?
In today's credit marketplace, getting from Point A to Point B isn't always a straight line. Lenders have various business goals and risk tolerance. Markets vary by industry and risk pattern. And consumers are demonstrating spending and savings habits that are no longer consistent with previous generations. If you follow the traditional scores and credit risk rules, you're probably writing off perfectly good customers.
Stay ahead of the curve. And the competition.
Now imagine a system that shares your standard of credit risk, but has the power to expand your opportunities. and give financial access to millions on creditworthy borrowers. Both the lenders and the borrowers benefit thereby creating more opportunity for both parties.
Ai Lift from Accelitas is designed to find hidden indicators of creditworthiness, using advanced analytics to bend the traditional curve so you can identify and accept more good customers. Using AI techniques of machine learning to combine existing data with uncorrelated alternative data, it's possible to enhance the risk segmentation to identify profitable customers you would otherwise have overlooked with traditional screening services that deliver incomplete or misleading results. Certain populations do not have long credit histories of "typical" assets that are usually associated with positive credit decisions. Ai Lift removes barriers to capital while simultaneously helping lenders grow their business.
Bending the curve gives you an edge on the competition, opening up new customers and new markets while returning a high ROI. In a recent data test of 18 competitive credit screening scores, Accelitas delivered twice the predictive lift over the vendor average — at 77% the cost of our nearest competitor.
Next: Compliance is an issue. And Explainable AI is the answer. Details in our upcoming blog.
Want to learn more?
Download our free eGuide.