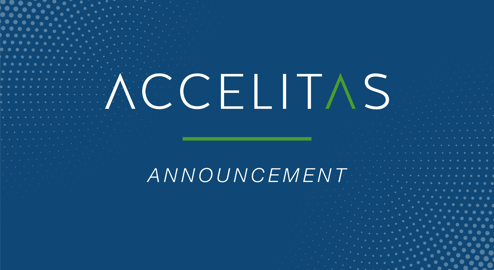 Data science expert Steve Krawczyk named Chief Technology Officer, James Cook brings strategic experience as new Senior Director of Product Management
With a growing demand for fintech solutions and an eye on the future, Accelitas is expanding its leadership team. In his new role as CTO, Accelitas vet Steve Krawczyk will drive the company's tech vision, joined by James Cook, recently named Senior Director of Product Management. The two will be working together as the company pursues its mission to "reimagine financial access through the transformative power of data."
The hires come at a time when Accelitas finds itself uniquely positioned to help clients navigate an uncertain marketplace. Accelitas enlists an unprecedented fusion of Artificial Intelligence and alternative data to confirm identity, predict credit, and streamline reconciliation and payments. The company also provides expertise in processes automation and production-grade deployment, expected to be key differentiators as companies seek new levels of efficiency to replace costly and potentially fraudulent systems.
Both men bring highly relevant experience to the tasks at hand.
Krawczyk was a research scientist for the Naval Research Laboratory and Cognitec, a leading facial recognition company, before joining the Accelitas team in 2008 as Director of Research. He left briefly to build high-volume machine learning digital ad targeting models for Quantcast, then returned to Accelitas in 2013 to lead the company's pioneering R&D efforts.
Cook arrives with more than 20 years of product management experience, including senior leadership roles with Fiserv/First Data and LexisNexis Risk Solutions focusing on identity management, fraud prevention, data analytics, communications and media.
"Our solutions are technology-driven, but it's our people who make it happen," says Accelitas CEO Greg Cote. "In Steve and James we have two of the best. They believe in what we're doing and can't wait to move forward."