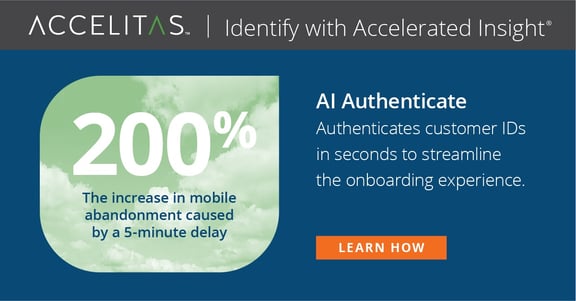 Mobile onboarding needs to be fast, frictionless, and risk-free. Minutes count. Extending the mobile onboarding process by a mere five minutes has been shown to increase the application abandonment rate by 200%.
One of the best ways to keep onboarding both fast and risk-free is by using IDs to collect customer information and then authenticating those IDs in real time to reduce the risk of fraud.
Our AI Authenticate service applies patented Machine Learning techniques to analyze IDs for fraud and instantly authenticates IDs, returning an indication of whether a submitted ID is real or fake. AI Authenticate also tokenizes IDs, so they can be instantly recognized in future transactions.
AI Authenticate is available through our Document Insight web services platform. Learn more about Document Insight.