Mobile-first consumers. The rise of artificial intelligence. FinTechs and disruptive startups. Open APIs for ecommerce, banking, and just about everything else.
It's clear we've entered a new era for business.
We've sped past the initial onramp of big data onto the new superhighway of digital transformation. In this new era, artificial intelligence (AI) and techniques like machine learning are turbocharging data analysis, enabling new types of businesses, products, and services.
Business leaders know these new technologies are creating dramatic new opportunities for growth. But to seize these opportunities, businesses are going to need to rethink some basics, including how they acquire customers and how they analyze customers and offer them products and services.
Trust me, businesses can't afford to coast, dreaming that a nifty mobile channel will complement a solid brick-and-mortar business to guarantee success. Your competitors are everywhere, and the convenience and ease of use offered by services designed from the ground up to optimize user experience has the potential to displace even the strongest incumbent.
To compete—and not just compete but to win— your company needs to be armed with predictive analytics that provides comprehensive insights into every potential customer in every market you're in. At any time and at any place, you need to be able to quickly and easily bring on new customers, authenticate them via any channel (especially mobile), perform real-time customer segmentation to recommend the most appropriate services, and ensure that no potentially profitable customer is overlooked or rejected.
In short, digital transformation requires an analytics transformation. To interact with customers, delivering new experiences anywhere, anytime, requires identity proofing that accurately confirms a customer's identity and offers guidance about how and in what ways that customer can be trusted. This is far beyond a simple yes/no type of data response. It's something richer, more complex, and more empowering for both businesses and consumers alike.
Identity Intelligence: The New Requirement for Digital Success
At Accelitas, we call this real-time, highly predictive type of data analytics Identity Intelligence.
Identity Intelligence goes beyond traditional approaches to identity analysis, such as Identity Access for authenticating and managing rights for employees and Identity Verification, which traditionally delivers only a cursory verification of a consumer's identity.
Identity Intelligences focuses on identifying customers at two key moments—the moment of account opening and any moment when a customer initiates a high-risk transaction. At those moments, and in real time, Identity Intelligences leverages advanced AI techniques like machine learning and deep learning to deliver predictive intelligence.
Using that intelligence, businesses can open the right account and deliver a winning customer experience. They can detect and reject a fraud operator before any losses are incurred. They can review rejected applicants with more advanced screening techniques, and welcome some of those applicants as customers. And they instantly re-verify those customers when they are engaged in activities that merit special scrutiny, such as initiating large account transfers or adding new users to a business account.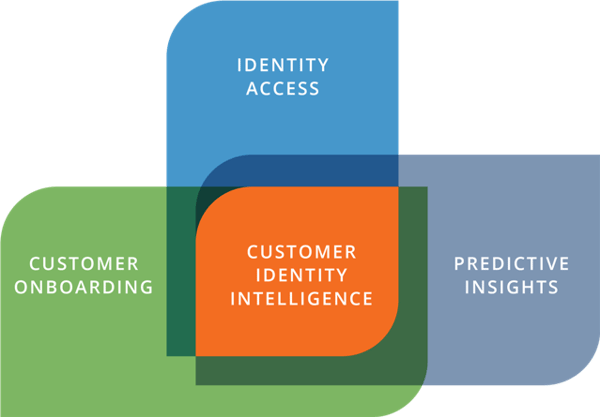 With Identity Intelligence, profits grow, and digital experiences wow customers. Without it, competitors steal market share, fraud losses deepen, account rejection rates remain unnecessarily high, and prospects and customers grow frustrated, abandoning applications and closing accounts, leading to lost revenue.
As a leading provider of predictive analytics about customers, Accelitas can help your company dramatically enhance its Identity Intelligence — so you can identify more customers and grant them fast, fair, and frictionless access to your business.
How is all this possible? Identity Intelligence draws on data that has long been available, but more importantly leverages analytics techniques that have only recently advanced to the point where they can be reliably used to predict outcomes.
Artificial Intelligence Makes It All Real
What's new now is the use of AI, including techniques such as machine learning and deep learning, to accelerate analysis, to make analysis progressively smarter and more effective, and to automate analysis that years ago could only have been dreamed of.
Today, you can use machine learning to create complex, non-linear decision models that get more predictive over time when exposed to new data. Startling advances in machine learning are showing up all kinds of business and applied analysis, ranging from genomics to sports betting to accelerating mobile account opening.
For Identity Intelligence, the most important aspect of this new approach to analytics is the ability to leverage existing information stores or generic forms of data to not only confirm identity, but to deliver a unique customer experience that makes customers feel appreciated, even special. Why? Because to succeed, businesses leveraging predictive analytics must ensure that the customer—that mobile-savvy 21st century citizen who is always aware of the many choices available in any competitive market—must always be served quickly and efficiently, preserving or even strengthening a brand relationship.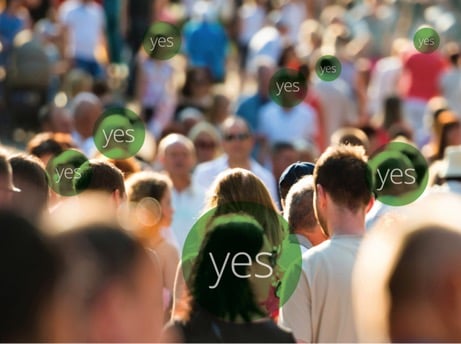 Reaping the Benefits of Identity Intelligence
These powerful analytical tools promise new benefits in various industries.
In financial services, for example, finding the predictive signal—that connection hidden in the data—can be critical for broadening financial access to previously underserved consumers who have been shut out of traditional financial products such as DDA accounts and credit cards for many years. It can also be critical for reducing fraud in new channels such as mobile banking.
In other industries, finding that signal can lead to better bookings ratios, higher sales, and improved sentiment scores.
Overall, there will be many beneficiaries of this new transformation:
Companies can accept new customers through any channel they choose with the same level of comfort as if they walked through your front door.
Businesses of all kinds will finally be able to accurately anticipate their customer's life events and needs by offering them relevant, helpful products ahead of time.
Businesses will be able to enter new markets and grow profits with manageable risk.
More consumers—especially nonprime consumers such as Millennials and recent immigrants—will be able to gain access to affordable and reliable financial services.
Small businesses will gain quick access to credit that would not have been readily available under older and slower methods of underwriting.
These are truly exciting transformations.
More Account Openings, More Financial Access, Less Risk
At Accelitas, we think Identity Intelligence is the right approach to enable companies of all kinds to accelerate customer growth while constraining risk.
Our contribution to this area is centered on a critical moment in the customer journey: account opening and screening, whether in a brick-and-mortar storefront or branch or on a PC or mobile device.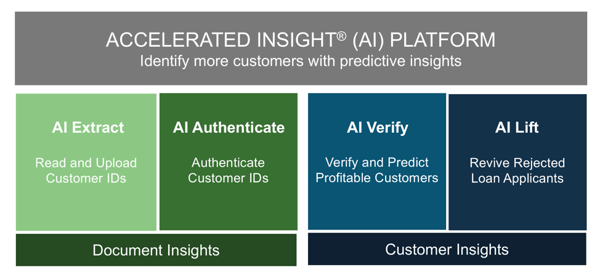 Our patented Accelerated Insight Platform, with its AI Extract and AI Authenticate services, uses AI to become increasingly astute at detecting increasingly sophisticated fake IDs and determining if the token of the identity document that we issued at account opening is the same one we see in each subsequent transaction. Accelerated Insight leverages machine learning and other AI techniques to get better over time at both difficult tasks.
Why are these capabilities so important? Because mobile has become the default computing platform for most consumers and a large number of business users. Fast, efficient mobile interactions have set the standard for all experiences on mobile devices—whether one is hailing a taxi, opening a bank account, or ordering patio furniture. Authenticating mobile users is critical for profitability and compliance—and it offers a great opportunity for impressing customers with attention to their experience.
Through ongoing exposure to an organization's customer base, AI Verify, another Accelerated Insight service, can be refined to deliver ever more accurate predictions regarding an applicant's likely profitability or probability of a life event, as well as indications of which product would best meet the applicant's needs.
Out of the box, AI Verify delivers higher match rates than traditional account screening services due to our advanced clustering algorithms. Adding progressive fine-tuning makes it even more adept at delivering fast, predictive responses for businesses managing credit risks in opening accounts.
Another web service, AI Lift, applies proprietary machine learning techniques to analyze rejected financial applications for any overlooked indications of creditworthiness, enabling companies to say "yes" to profitable applicants they might have otherwise rejected.
AI Lift can be easily incorporated into loan-decisioning platforms and data waterfalls. The service consistently identifies 10-20% of rejected loan applications that were overlooked accounts, but that turned out be creditworthy and profitable. AI Lift enables lenders to grow revenue and achieve a remarkable ROI of 30:1.


Don't Wait to Raise Your Identity Intelligence
I began this post with a list of some of the amazing new technologies available to organizations today—technologies such as AI, open APIs, and mobile devices. These tools are available to every organization. They provide a competitive advantage, but they also raise the bar for technical and analytical prowess.
The companies that win in the markets of today and tomorrow will be the companies that apply these tools exceptionally well, maximizing growth while meeting and exceeding the needs of customers.
Today's companies need insights that they are simply not getting from traditional databases, data feeds, and marketing lists. They need keener intelligence that provides a personalized experience that only predictive analytics can deliver. They need it available anywhere: in a store, in a branch, or on a mobile device.
Identity Intelligence provides the predictive insights that companies have been waiting for. At Accelitas, we've seen time and again how this intelligence transforms the businesses of our clients, unlocking growth and opening opportunities for new types of business.
We believe that Identity Intelligence can bring these same benefits to other organizations in a wide range of markets. And we're prepared to deliver it.
How can Identity Intelligence help your organization identify and say "yes' to more customers? Give us a shout, and we'll let you know.