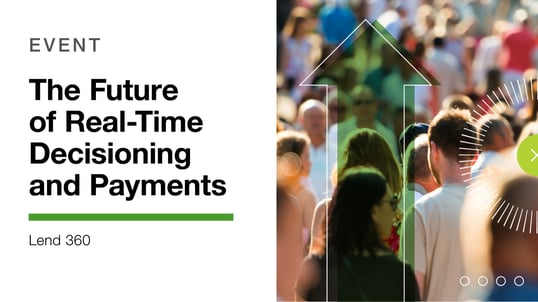 The Future of Real-Time Decisioning & Payments takes center stage at Lend360, highlighting Nacha mandates and transactional tools
With new account openings and online payments skyrocketing, the emergence of real-time account verification represents a disruptive change from traditional lending practices — as well as a major opportunity.
That's the consensus of industry experts at the recent Lend360 online lending summit in Dallas. In a session titled The Future of Real-Time Decisioning & Payments, Keith Barnett of the law firm Troutman Pepper Hamilton Sanders LLP, James Celli, of LoanPaymentPro, and Jimmy Williams of Accelitas outlined four key developments lenders should be monitoring in the coming year: the tools available for real-time decision making, fraud prevention and real-time payments, support offerings from card brands and Nacha, and strategies for the CFPB small dollar rule.
Consumers and lenders crave better real-time account verification tool
For both consumers and lenders, the new tools promise a more frictionless experience for digital transactions, allowing bank account validation to move away from traditional and inefficient processes. "The need for immediate gratification is just absolutely massive," Williams said about the small window of time to engage customers and ensure digital adoption. "Can you provide them the best-in-class overall UX?"
"On the flip side," Williams added, "when you can validate and verify that data in real time, you're going to increase your payment success rate, the likelihood of having a better file and a better borrower account."
According to Celli, case studies have also proven that real-time bank validation and verification significantly reduce first payment defaults (FPDs).
The Nacha web debit rule, which goes into enforcement March 2022, remains a hot topic. Barnett noted that while for fraud prevention , the rule allows lenders to choose from a number of tools for compliance, and Nacha conveniently lists its preferred partners on its website.
Williams explained that the value in these tools is not only meeting the criteria of the rule but ensuring behavioral aspects of the account in question; "Do they meet the merits of an account that you want to interact with?" Williams considers the proliferation of new technologies a "wonderful" option to legacy tools that take days or require manual processes.
"Everybody sees the future," Williams said. "We just have to do it the right way."
To watch the full Lend360 panel session, click here.
Click here to schedule a free data test to learn how Accelitas delivers fast, fair and frictionless Bank Account Validation solutions customized to your business.