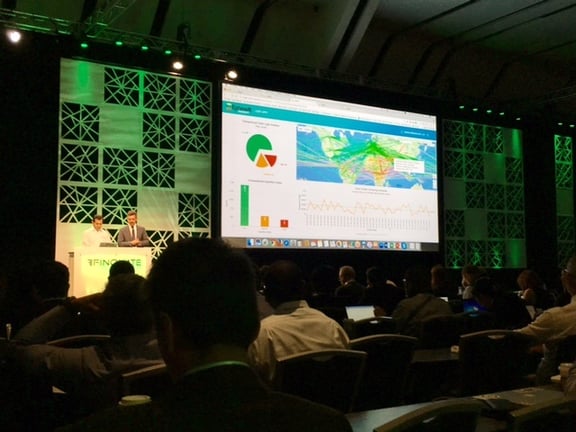 At this year's Spring Finovate conference in San Jose, California, the consensus among attendees seemed to be that this year's event was interesting, but hardly groundbreaking. The presentations from roughly 60 companies were mostly developments and refinements of ideas that had been presented in earlier conferences.
That's fine. In any field of technology, there's always plenty of work to do developing innovations to make them more comprehensive and efficient.
And what were the innovations being refined this year? Several trends stood out.
Finance is going mobile.
No surprise here. Consumers love their smartphones and tablets and expect to be able to access all kinds of financial services—from DDA accounts to mortgage applications—quickly, securely, and easily on their mobile devices. Many presentations featured services or workflows focused on mobile interactions.
APIs let institutions and vendors build even better solutions.
Application Programming Interfaces (APIs) connect one application or service to another for real-time collaboration among services. Vendors are moving away from closed, monolithic software applications to API-driven services, enabling their financial customers to build best-in-class solutions customized to meet highly specific requirements. Over time, this will offer even the slow-moving institutions greater flexibility and agility.
Employee efficiency is getting the attention it deserves.
What financial institution isn't interested in efficiency? The financial services industry overall is moving from time-consuming, paper-based workflows to fast, mobile, highly automated digital workflows. In areas as diverse as account-opening and portfolio analysis, new solutions are making employees more efficient than ever before.
Artificial Intelligence is an accelerant.
No longer merely the stuff of science fiction, Artificial Intelligence—especially Machine Learning—is beginning to deliver tangible and dramatic results for financial institutions.
At DSi, we're delivering solutions that build on all four of these trends.
Fast, frictionless mobile account opening.
Our solutions streamline mobile account opening by automatically filling in forms with data gleaned from photographs of identity documents such as driver's licenses. We can also analyze IDs in real time to detect fraud.
Secure, fully documented APIs.
Financial organizations and third parties can access our services through secure, fully documented APIs. Our APIs make it easy to integrate our services into mobile apps and Web sites.
Employee efficiency.
Our make both front-line and back-office employees more efficient. Our services streamline account opening and provide real-time guidance to in-branch and in-store staff, reducing guesswork and time-consuming work like typing. For organizations with back-office staff vetting CIP discrepancies, our Workbench solution delivers an annual ROI as high as 1500%, as this case study
Artificial Intelligence for more accurate fraud detection and more profitable lending.
We use Machine Learning techniques to detect fraudulent IDs submitted by mobile users for mobile account opening. Because our solution is a self-learning service, it can respond to new variations in fraud techniques more quickly that traditional template-based systems can. We also use Machine Learning techniques to refine risk/confidence assessments of loan applicants. By taking a second look at applicants that would normally be rejected, our data-driven insights enable financial organizations to say "yes" to applicants who might other receive a "no." The result: more profitable lenders and more satisfied customers.
To learn more about how we're using Machine Learning techniques and open APIs, please contact us.