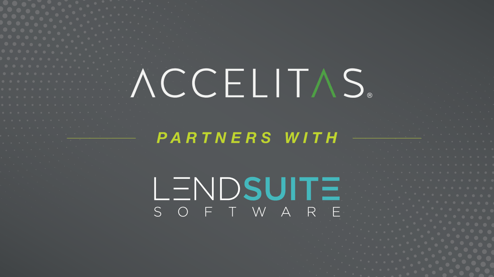 Accelitas joins LendSuite; New collaborative platform brings best-in-class fintech experience to lending ecosystem
It's a daunting landscape for lenders. Millions of customers. Billions of transactions. Seemingly infinite data points. And decisions that need to be made at the speed of now.
As fintech rushes to meet the needs of a dynamic marketplace, LendSuite has stepped up with a novel solution: what if some best-in-class lendtech specialists worked together in a single tailored platform to grow and scale their customers' business?
More Gain. Less Pain.
LendSuite Software operates as a collaborative ecosystem rather than a massive single company. Each business runs independently of the others but works closely together to advance and enhance their offerings to clients. The company describes its shared mission as "bringing you the best lending technology in the least painful way possible."
In the process, LendSuite becomes a one-stop destination, offering consumer lenders an unprecedented array of products and services that have been optimized through stronger collaboration, tighter integrations, and fewer contracts to navigate.
Accelitas Brings the Predictive Analytics Advantage
Now Accelitas joins the LendSuite platform as a Premier Partner. The company offers its predictive analytics expertise to LendSuite's collaborative platform that includes; Tekambi, an underwriting and decisioning software solution; Infinity Software, a customizable cloud-based lending system; and EPIC Loan Systems, a loan origination and management software.
LendSuite clients will now have instant access to the Accelitas portfolio of advanced predictive scoring services, including Ai Lift, an alternative credit risk score; Ai Validate, a non-credentialed account validation solution; and Ai Screen, a way to pre-screen leads to lower lending costs.
The first Accelitas integration will provide lenders access to Tekambi's credit risk underwriting solutions that enable lending portfolios the power to control any aspect of the lead purchasing process.
Joining Forces for Premier Performance
"We are excited to become a LendSuite Premier Partner, making it seamless for consumer lenders to access our suite of advanced analytic services," says Anna Burke, Senior Vice President Partnerships & Financial Institution Sales. "For lenders seeking the highest performance, LendSuite clients now have direct access to the power of uncorrelated alternative data sources and advanced predictive scoring to screen leads, validate accounts, and accept more creditworthy borrowers."
A Singular Lendtech Solution
In a lending marketplace with a lot of moving parts, a one-stop shop makes a world of sense. Working together, Accelitas and LendSuite are making what's possible even better.