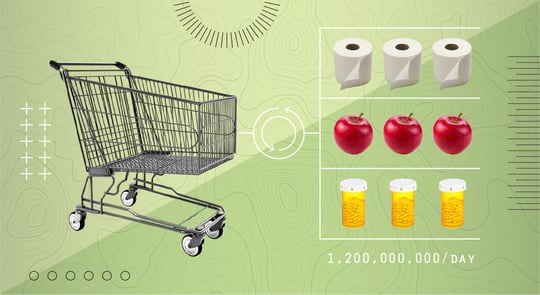 With essential retail transactions more frequent and vital, insights on consumers are more important than ever
Uncharted waters. That's how most of us are viewing the coronavirus crisis and its unfolding effect on the economy. When your business is balancing credit and risk, you look for ways to address the growing uncertainty and chart the smartest course possible.
People will need to borrow. And lenders will need to lend. According to our clients, the need for new and nimble credit data is more vital than ever. In many cases, they tell us, our alternative data is already providing a timely advantage.
Alternative data in real time
As retail transactions focus on the essentials, the uncorrelated alternative data that powers Ai Lift is delivering automated real-time results straight from the shopping cart. Groceries. Hardware. Health and household products. Super fresh ecommerce and merchant point-of-sale data from 400,000 U.S. locations with 1.2 million records updated daily. When combined with custom-tuned analytics, it provides daily insights that a "canned" or rear-view credit score can't touch.
Greater access to creditworthy borrowers
This unprecedented view of the consumer offers an advantage in these uncertain times. It also makes sense when the economy inevitably rebounds, letting you continue to make informed credit risk decisions while increasing your pool of creditworthy borrowers.
It's also a good time to make a personal connection. Accelitas remains fully operational, and our team is ready to help your business turn real-time data into timely solutions.