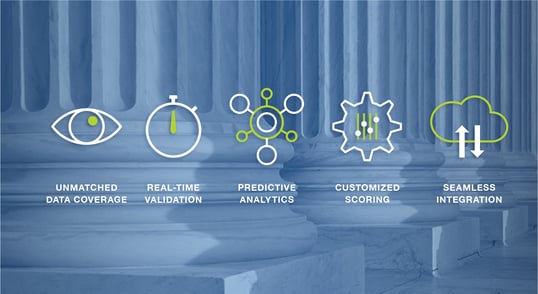 New ACH service provides unprecedented coverage from real-time data sources, customized to your business needs
In today's competitive environment, you need every advantage to grow your business. But the fact is, many companies rely on traditional account validation and credit tools with limited coverage and insight.
That's what makes Ai Verify/Bank Data so timely. With unmatched coverage of US and Canadian bank accounts (98%), and real-time data updates, Accelitas is able to do what the traditional players can't — deliver instant bank account validation fine-tuned to specific business needs.
It means that while you are doing everything you need in order to become Nacha-compliant, you also get to see a 30% lift in coverage compared to businesses that use traditional bank data consortiums. Add in the fast, frictionless customer experience, ACH success rates, and reduction in returns, and Ai Verify/Bank Data becomes an incredibly valuable tool for growing business.
So how do you know Ai Verify/Bank Data can out-perform your existing validation service if that service won't let you test it?
That's a good question.
Up next: a good answer.