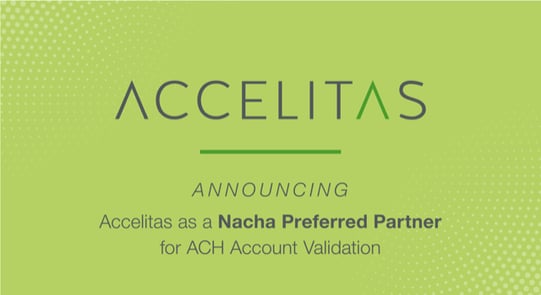 AI-powered analytics, alternative data expertise, and real-time ACH validation help facilitate innovation across the ACH Network
The National Automated Clearing House Association (Nacha), which governs the $62 trillion in ACH Network payments made annually in the U.S., has announced Accelitas as a Nacha Preferred Partner. Accelitas joins a select group of innovators that Nacha recognizes for offering products and services that align with Nacha's core strategies to advance the thriving and critical ACH Network.
It's welcome recognition for Accelitas, which has made a name for itself by enlisting AI-powered analytics and alternative data to provide fast, fair and frictionless ways to grow business. The company offers real-time ACH validation solutions for low-cost account validation checks and more extensive account screening for loans and other high-value transactions, an expertise that helps serves the Nacha mission.
"Nacha is continually advancing and modernizing the ACH Network, while improving safety and security," says Nacha President and CEO Jane Larimer. "Account validation allows the industry to do their part, and it's why we welcome Accelitas as a Preferred Partner."
Accelitas CEO, Greg Cotè, says that while commerce continues to move at digital speeds, many companies still rely on manual processes that that limit revenue and invite fraud. "Our real-time account validation services confirm accounts in seconds inviting more growth and less friction, without the use of online banking credentials. We are proud to be a Nacha Preferred Partner and are looking forward to working with complementary organizations to facilitate efficiencies and innovation across the ACH Network."