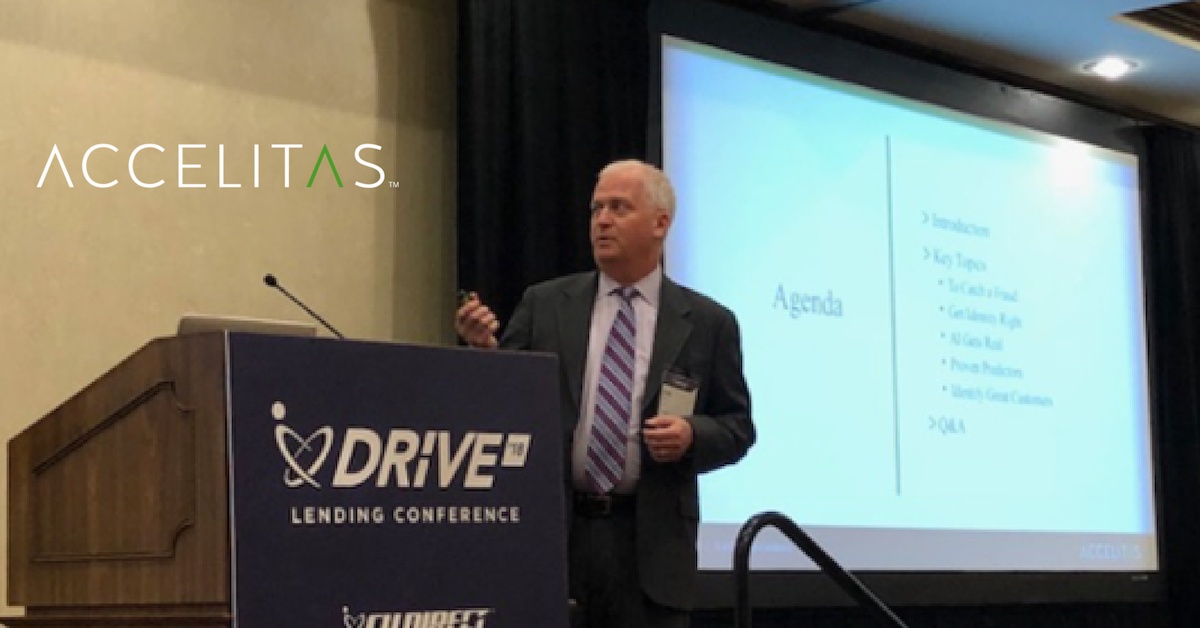 On May 31, 2018, Accelitas CEO Greg Cote delivered a talk "The Good, the Bad, and Your Data" - highlighting Identity Intelligence at the CU Direct DRIVE Conference in Grapevine, Texas. Here's the first post - of a two part blog series - of Greg's talk that explains how to leverage Artificial Intelligence to identify more good customers.
Why you need to leverage Artificial Intelligence to identify customers
After years of positive growth, it's easy to get complacent, but there are three major challenges that will impact the growth and profitability of the financial services industry over the next few years. To meet these challenges and achieve success requires more than just keeping out the bad guys. It requires leveraging new techniques like Artificial Intelligence (AI) for identifying more good guys and seamlessly converting them into customers.
Here are the three challenges:
An economic downturn is near.
The economy has been strong for so long now, it's easy to forget that business is cyclical and that no matter how long a growth market lasts, corrections and downturns still occur. It's becoming clear that we're at the end of a business cycle. Consumers have now amassed over $1 trillion in credit card debt. Default rates are creeping up on credit cards, bank cards, student loans, and mortgages, putting added pressure on consumers' borrowing costs. Many experts believe the economy is going to turn in the next 18 months or so. Lenders are going to have a much harder time selecting borrowers who will enable them to maintain their current targets for portfolio profitability.


Fraud is more sophisticated and costly than ever.
Synthetic identities, phishing, geo-spoofing, SIM card cloning, social engineering, dark websites selling your customers' data—the bag of tricks the bad guys have for perpetrating fraud is more sophisticated and powerful than ever. The cyber pranksters of a decade or two ago have been replaced by criminal syndicates and nation states. Fraud activity increased 58% in 2017, and fraud costs reached $2.67 for each $1 in funds actually stolen. It is more important than ever for lenders and financial organizations to be able to identify fraud, even as these organizations move more of their business to remote channels such as mobile.


Customer demographics are changing.
The Baby Boomer population is declining. The new growth markets are Millennials, Generation Z (the post-Millennial generation), and recent immigrants. It's more difficult to get data on these customers than it was with Baby Boomers. Financially underserved households, many of whom lack credit histories, now account for nearly 100 million consumers. But while data on new customers is limited, the bar for delivering great service is rising. Brought up in the age of smartphones and Amazon, young customers have high expectations when it comes to digital experiences, especially mobile experiences. Brick-and-mortar strategies that worked for previous generations, won't work for this new generation of digital-first customers. Lenders and other organizations need to re-tool and re-build, and they must complete their reinvention quickly so they don't miss out on these growing markets.


The Importance of Identity Intelligence
The picture is not all gloom and doom, though. Huge opportunities exist to win new customers and to deliver services more quickly and efficiently than ever before.
The key is to focus on alternative data, Artificial Intelligence
techniques and experiences that enable your company to identify more good customers and increase growth and profitability. To do that requires a unique approach that brings together two distinct and critically important types of predictive analytics:


Analytics that confirm an applicant's identity; and
Analytics that predict the creditworthiness of the applicant.




With advanced Artificial intelligence data analytics, we now have the tools to leverage data that was traditionally used for one purpose, such as confirming loan performance, for a completely different purpose, such as predicting identity. The reverse is true as well.
When analyzed and managed correctly, identity data delivers Identity Intelligence – accurate and predictive insights about the identity, creditworthiness, preferences, and habits of customers.
Implementing this approach helps you:
Find profitable customers in increasingly risky times.
Combat fraud by distinguishing real customers from fraud operators.
Screen, welcome, and serve new communities of customers with best-in-class digital services.



Accelitas and Identity Intelligence
At Accelitas, we're putting together these two elements—alternative data sources and Artificial Intelligence-powered, predictive analytics—to help our customers identify more good customers and raise their Identity Intelligence.
Our Accelerated Insight Platform® enables companies to:
streamline account opening for all channels, including mobile, online, and brick-and-mortar
identify and grow profitable accounts with confidence
reduce fraud and customer churn
re-evaluate rejected accounts for overlooked indications of creditworthiness
With challenging times on the horizon, now is the time to increase your profitability by implementing a new approach that identifies more good customers, while reducing the bad ones. Your data, powered by Artificial Intelligence and the Accelerated Insight Platform, enables you to do both.
To learn more about how we help organizations identify more customers and grant them fast, fair, and frictionless access to their business, download our Identity Intelligence Solution Brief.