We're back from this year's CFSI EMERGE Forum, which took place in New Orleans on June 15-17. This event, which focuses on solutions for financially underserved consumers, is bigger than ever. The Forum's new emphasis on consumer financial health attracted a lively combination of financial services organizations, community organizations, and FinTech vendors.
Introducing Document Insights
For Accelitas, it was a momentous show. On Wednesday, we launched AI Extract and AI Authenticate, our new mobile ID authentication solution, which is designed to help banks, credit unions, and lenders offer mobile account opening to consumers.
Mobile devices are critically important to the financially underserved families being studied at the EMERGE Forum. For about 10% of American households, mobile devices provide the sole means of Internet access. Without mobile support, banks and other financial organizations have no means of delivering online services to these households. And without mobile account opening, financial organizations have no way of enabling these households to open accounts remotely.
Until now, most mobile-ready financial organizations have skirted the issue of mobile account opening by providing mobile services to consumers only after they opened their accounts in a branch or storefront. If consumers were not close to branch or if they felt uneasy about visiting a branch, they never opened an account at all. If more organizations offered mobile account opening, underserved consumers would have more choices--and more affordable choices--for managing their money.
So what has kept financial organizations from offering mobile account opening? Two major obstacles:
The risk of fraud arising from the difficult of authenticating IDs and verifying that applicants are really who they say they are.
The difficulty of collecting Customer Information Program (CIP) data and other application data without requiring lots of typing on small mobile devices and increasing the risk that frustrated consumers would simply abandon the application altogether.
Our new web services for Document Insights address both these problems.
AI Authenticate enables applicants to verify their identities by submitting a photo of an identity document such as a driver's license. Mobile Intercept fully authenticates the ID in less than 10 seconds using proprietary technology and advanced machine-learning techniques.
AI Extract automatically fills in form data using data read from the ID, reducing typing and keystroke errors.
To learn more about these services, read about our Accelerated Insight platform or contact us.
Why FPD Is No Better than a Coin Toss
At EMERGE we also had many conversations about how technology can be used to help financial services organizations safely open accounts and issue loans to the roughly 30% of American households who are invisible to credit bureaus and traditional account-screening services.
To make a decision about whether to issue a loan, many alternative financial services (AFS) organizations screen applicants for the likelihood of them incurring a First Payment Default (FPD)--that is, the likelihood of a customer missing their first payment.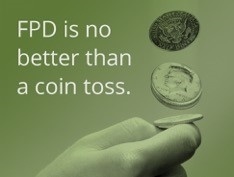 Our analysis multiple lenders' business results shows that FPD is not nearly as predictive as some lenders hope. In fact, FPD turns out to predict loss only about 50% of the time. In other words, FPD is about a predictive as a coin toss.
What should lenders do instead of relying on FPD? By using AI Verify, our real-time account-screening service, and tuning their analysis to screen for likely profitability, they can open more profitable accounts while also reducing FPD rates by 60%.
To learn more about FPD and predicting profitability, read our two-page brief on FPD.
EMERGE and Accelitas
We're excited to see the EMERGE Forum grow in size and broaden its vision to financial health, and we look forward to participating in the forum again next year.
In the meantime, we're continuing to provide financial services organizations with powerful analytical tools that will enable them to say "yes" to more consumers, including the 30% of consumers who are financially underserved.
How can we help your organization? Let us know.